Jeffrey Asked Us to "Do Something!"
On September 25th, 1970 our only son, Jeffrey, was born. He came into our lives very wanted and very cherished. How could we know that he would only be with us for 15 years? Or how he would change our lives forever, along with the lives of thousands of people he would never meet?
Jeffrey's first ten months were peaceful and happy. He plunged into life with joy and quickly developed the cheerful, outgoing personality that everyone remembers about him.
But then things started to go very, very wrong. Just before his first birthday, Jeffrey developed a hepatitis-like condition and was hospitalized with high fevers, jaundice, and an enlarged spleen. The doctors ordered extensive tests. There was an unbearable wait, and then the diagnosis, hypogammaglobulinemia.
In an instant, our world was shattered. On the outside, Jeffrey was so beautiful and looked so normal. But inside, his immune system, his lifeline, was seriously flawed. The doctors explained the medical aspects of his illness and told us the prognosis for his condition was uncertain.
This alone would have thrown our lives into turmoil. But there were the added anxieties caused by limited medical knowledge at that time. After all, who had ever heard of Primary Immunodeficiency? What were the causes? What effects would it have on Jeffrey and our family? How could we explain to him, a child, why he kept getting ill? We could barely understand it ourselves. We sought the best medical opinions and he had the best medical care, but science had not caught up to Jeffrey.
And the lack of knowledge was only part of the problem. In the whole time Jeffrey was ill, we never met another family and he never met another child living with Primary Immunodeficiency. Not one! Virtually every other illness had support and information networks that anyone could access. Primary Immunodeficiency had none.
And so life went on. Jeffrey had the recurring infections typical of Primary Immunodeficiency, and our lives became a whirlwind of hospitals and doctors' offices. We saw hepatologists, hematologists, immunologists, rheumatologists, oncologists, and just about every other "ologist" that exists. Every succeeding illness disrupted his young life. There were so many lonely nights in the hospital and so many lonely days when he was sick at home.
There were some treatments available, but they brought problems of their own. At three or four years of age, Jeffrey had to endure painful, intramuscular injections of gamma globulin given with huge needles that left him sore for days. By the time he was ten or eleven, he was started on intravenous gamma globulin and his first treatment was given to him by Dr. Max Cooper in Birmingham, Alabama. He was then enrolled into the first clinical trial for IVIG at Memorial Sloan Kettering, in the care of Dr. Robert Good. These treatments sometimes improved his life for weeks at a time. But time will never erase the memories of the infusions with their many side effects, including chills, fever, headaches, and nausea.
Through it all, Jeffrey managed to thrive. He reached normal height and weight and kept up in school, camp, and sports. But throughout the years, Jeffrey's problems never went away.
Courage and humor were Jeffrey's great assets. His determination was inspiring. But the time bomb kept ticking inside him. One story sums up this whole middle part of his short life.
One day, Jeffrey came home from school with a permission slip, bubbling with excitement. His 8th-grade class was planning a 3-day "whaling expedition" on Cape Cod in April. Jeffrey told us to "just sign the slip," that he desperately wanted to go, that it meant everything in the world to him. He was old enough and smart enough to know what the consequences might be, but he said: "it was worth it".
I could only imagine how cold and damp it is on Cape Cod in April – the rustic, unheated cabins they would sleep in, the wet clothing from the whaling boat. I knew I would not have control of what he wore, or if he would be careful. After all, he was a teenager and wanted to be just like the rest of his friends.
Fred and I carefully weighed the pros and cons. We knew he loved the sea, boating, and being with his friends. With great trepidation, we signed the permission slip and crossed our fingers. I thought about asking the pediatrician his opinion, but I knew what he'd say, so I didn't. Off Jeffrey went.
Jeffrey called home several times to say he was having fun and feeling great. He was obviously the greatest actor of all time – an Oscar-winning role. Three days later, the bus rolled in and he came off laughing and excited, dirty and grimy, with bright blue eyes and shiny red cheeks. I knew those cheeks were a tell-tale sign of fever. Sure enough – 104˚.
That trip, those three or four days, were the most memorable, enjoyable, fulfilling days of his life; something he could share with his friends. Several of the kids landed up with a cold, but Jeffrey landed up in the hospital. He told the nurses and doctors, who had come to be his best friends, about his trip – the whale sightings, the girls. He laughed off the fact that he was now paying for it.
Jeffrey survived and bounced back. But his doctors, who compared him to a cat with nine lives, told us he had already used up seven or eight. One day, without warning, he developed hepatitis, and a few months later, pneumocystis pneumonia. He had two more life-threatening bouts with pneumocystis, and the third one, sadly, took his precious life in 1986.
Throughout his life, Jeffrey would say to us, "Do Something! You went to college. You're smart!" And to his doctors, he would say, "Do Something. You're smart. You went to medical school!" How heartbreaking it was to hear your child say that. Little did he know, his doctors and his parents did everything they could, but sadly, science had not caught up to Jeffrey.
When he died, he took with him our fear, our dread, our loneliness, our despair. But we could not let his life be in vain. We had to "Do Something" to fulfill his unanswered prayers.
Jeffrey never knew how he would change our lives forever, and the lives of so many thousands of children he would never meet. But in the spirit of his optimism and courage, we created the Jeffrey Modell Foundation - not in memory of his death, but in celebration of his life, and to give life.
Throughout his lifetime, we were privileged to have consulted with four of the most important immunologists of the 20th century…Max Cooper, Bob Good, Fred Rosen, and Walter Hitzig. Each of them spent countless hours, days, and weeks trying to unravel the mysteries of Jeffrey's condition. We and Jeffrey were so fortunate to have met the most preeminent immunologists of the time - each of whom made a profound impact upon the diagnosis, treatment, and understanding of Primary Immunodeficiency – each of whom contributed to keeping Jeffrey alive for fifteen years. And when we thought about establishing the Jeffrey Modell Foundation those four giants, together with their colleagues, set an agenda for this new entity that has carried us to this day.
The Jeffrey Modell Foundation is a public charity devoted to early and precise diagnosis, meaningful treatments, and ultimately, cures - through clinical and basic research, physician education, patient support, advocacy, public awareness, and newborn screening.
Our first project, in the early 1990's, was to develop the "10 Warning Signs of Primary Immunodeficiency" with the American Red Cross and our newly established Medical Advisory Board. Since then, the "10 Warning Signs" have been translated into more than 50 languages and have been distributed throughout the world. In 2010, the Warning Signs were slightly revised, as the medical community developed greater knowledge of Primary Immunodeficiencies.
To date, we have named and funded 150 Jeffrey Modell Diagnostic and Research Centers, and today, the Jeffrey Modell Centers Network includes 821 Expert Physicians, at 379 academic teaching hospitals, serving 294 cities, 86 countries, and spanning 6 continents. Remarkably, more than one hundred new genes have been discovered at Jeffrey Modell Centers in the past five years.
The Jeffrey Modell Foundation has organized more than fifty scientific symposia including global meetings in collaboration with World Health Organization (WHO) and International Union of Immunological Societies (IUIS) in Austria, England, France, Germany, Greece, Hungary, Ireland, Portugal, Switzerland, California, New York, and Wyoming.
The Foundation has partnered with government agencies, including a multimillion-dollar research collaboration with the National Institutes of Health. JMF has collaborated with the U.S. Centers for Disease Control and Prevention to conduct a Public Awareness and Physician Education Program, which has resulted in a tenfold increase in the number of patients identified, referred, diagnosed, and treated. Public Service Advertising appears on TV, radio, airports, newsstands, bus shelters, shopping malls, magazines, Taxi TV, and even large billboards in Times Square. Donated media has reached over $690 Million.
Patients worldwide are supported by JMF with Kids Days and through our World Immunodeficiency Network (WIN); Physicians and Nurses receive travel grant support to attend important conferences and meetings through winMD and winRN.
Over the past decade, we have appeared at the United States Congress to advocate for Newborn Screening for SCID. In 2010, the U.S. Secretary of Health and Human Services recommended SCID to the National Core Panel, the first condition to be added in the last twelve years. JMF implemented and funded programs to screen for SCID in many states. Hundreds of newborn babies with life-threatening conditions have been screened, diagnosed, transplanted, and cured!
To date, the Foundation has funded twenty-eight post-doctoral fellowships and four Jeffrey Modell Endowed Chairs in Pediatric Immunology Research. In addition, in 2007 the Jeffrey Modell Immunology Center was established at Harvard Medical School.
Over the past few years, the Bill & Melinda Gates Foundation and the Jeffrey Modell Foundation have collaborated to eradicate polio worldwide.
More than thirty years after its creation, the Jeffrey Modell Foundation continues its mission of hope, advocacy, and action by vigorously supporting physicians, researchers, and the ever-expanding global patient community - directing its efforts toward early diagnosis, meaningful treatments, equal access to care, and ultimately, cures for Primary Immunodeficiency. During our journey, we have had the privilege of working alongside many courageous and inspiring individuals, who have also created patient advocacy organizations in honor of or in memory of a child…specifically, the Immune Deficiency Foundation (IDF), SCID Angels for Life, Wiskott-Aldrich Foundation (WAS), Chronic Granulomatous Disease Foundation (CGD), the International Patient Organization for Primary Immunodeficiency (IPOPI), as well as all of the other dedicated patient organizations throughout the world. Together and united, we have shaped one strong message and one strong voice that will resonate for generations to come.
As we look back it was Jeffrey who created the passion for our work. In a small way, we hope we have been facilitators and perhaps the "glue" for advancing science and health policy in all regions of the world.
By supporting scientific forums, by funding research, by supporting professors and researchers, by providing funds that enable the best and brightest to choose immunology as a life-long career, we hope to have been a critical catalyst for the increased pace of scientific discovery, and we hope that we have influenced and caused positive change for health policy around the world. Whether it's funding for Newborn Screening or support for pediatric immunology, we have advocated before health departments and health ministries across the continents.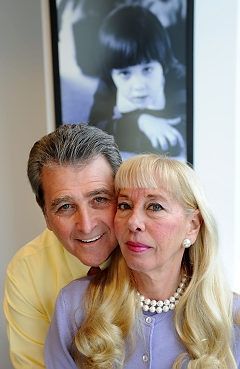 We have seen great success throughout the course of our journey, but we still have miles to go. None of our success could have happened without the brilliance and compassion of the doctors, the tender, loving expert care of the nurses, the resolve and dedication of the researchers, the bravery and courage of the families, the vision and constant support of our donors, the perseverance of the quiet, unsung heroes working days and nights in their labs, and most of all, the patients who inspire us, propel us, and compel us to continue our incredible journey.
We believe that all of us together - we can, we will, and we are - making a difference. We can meet the challenges, capture the opportunities, and give all children for generations to come a brighter, healthier future.
Yes, Jeffrey, you set us on our journey alone, but indeed we are "Doing Something".
You taught us that to succeed in life you need three things: a wishbone, a backbone, and a funny bone. The wishbone is for the ideals, the goals, and the dreams; the backbone is for the fortitude and the courage to pursue them, and the funny bone is for the laughter and tears that are necessary for the little bumps along the road.
We wish everyone a lifetime filled with more laughter than tears, as we all continue to pave new paths, brave new worlds, and walk new roads along this extraordinary journey…